Frequently Asked Questions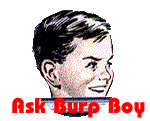 Q. Do the toys use regular Ping pong balls?
A. "No, these ping pong balls are smaller - and cheaper".
Q. Does the ball hurt if it hits you?
A. " Did you ever get hit with the ball when playing ping pong? It's the same thing"
Q. How many balls are in the gun?
A. "There are 15 balls in the gun, and 7 in the pistol."
Q. What ages can use the gun?
A. "4 years and up"
Do you have a question?
Ask Burp Boy - Just Click here
Return to home page